Tuesday, December 15th, 2009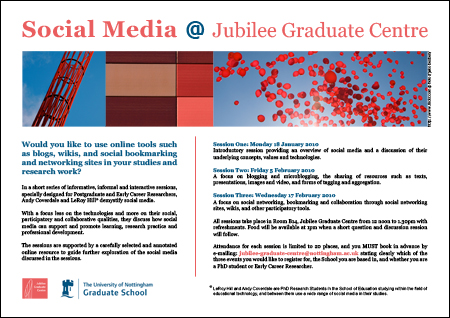 Early next year, I'm running a short series of sessions with my colleague LeRoy Hill on social media for Postgraduate and Early Career Researchers based at Jubilee Campus. The Jubilee Graduate Centre is hosting the sessions and providing facilities and refreshments. Centre Manager Tracy Sisson is enthusiastic about the project and has been very helpful in organising everything.
We've just started publicising the three sessions and hopefully we can get enough interest to fill the 20 places we are allowing for each one. We want the sessions to be informal and quite interactive, and it would be nice to get a mix of attendees from the Schools of Education, Computer Science and Business – could provide an interesting range of perspectives.
We are busy designing the sessions and compiling a complimentary online resource with links to tools, tutorials, and and other useful references – lots to do each side of Christmas.
All sessions take place in B14 from 12 noon to 1.30pm on the following days:
Session One: Monday 18 January 2010
Introductory session providing an overview of social media and a discussion of their underlying concepts, values and technologies.
Session Two: Friday 5 February 2010
A focus on blogging and microblogging, the sharing of resources such as texts, presentations, images and video, and forms of tagging and aggregation.
Session Three: Wednesday 17 February 2010
A focus on social networking, bookmarking and collaboration through social networking sites, wikis, and other participatory tools.
Anyone wishing to attend should contact Tracy at jubilee-graduate-centre@nottingham.ac.uk