Sunday, April 28th, 2013
I've been asked to present various aspects of how I use social media at a number of academic events and training sessions recently. I've always been reluctant to over-emphasise my own social media practice in my workshops for reasons I've explained previously, but I welcome any opportunities for shared practice when it allows for multiple and diverse perspectives.
If I have to nail it down, there are only four platforms I would really call essential. This blog and my Twitter account are those most known to external audiences. I use a desktop-based RSS reader, Vienna (Mac OS X only) to aggregate feeds from approximately 200 blogs (listed here in my blogroll) and various additional websites, and for many years I have used social bookmarking for collating and managing web resources (I switched from Delicious to Pinboard in response to the much-publicised ownership and design changes, though keep both sites active). Many academics are rightly concerned with how time-consuming social media might be. Therefore, I've found it useful to conceptualise how I engage with these key platforms through varying schedules within an informal workflow of key interrelated academic activities.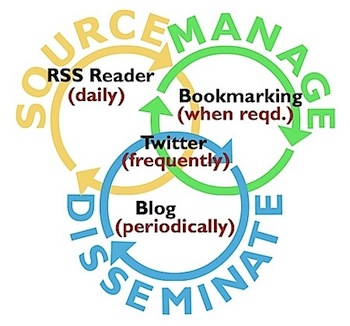 In developing this, I'm reminded how I have so far chosen not to routinely use any of an increasing number of emergent social media such as Pinterest, Scoop.it and Bundlr (beyond the usual playing around with them). These and other sites represent a diverse range of ostensibly visual platforms that have been loosely referred to as 'curation' tools. One can see how they might fit conceptually in such workflows, but do they offer us anything original? How does one attempt to contextualise the potential of these sites within established social media practices beyond that of a reified set of new tools or just another web 2.0 buzzword?
The term implies the addition of a more purposeful creative output or narrative. In short, we might refer to curation as the collecting and managing of web-based resources but with added context, or:
Curation = collecting + managing + context
These social media offer the potential to extend the type of time-efficiency processes of sourcing and collating content described above by incorporating enhanced social and performative affordances. In doing so, they introduce new opportunities for educators and researchers to organise and themetize resources, synthesise key concepts and narratives, and develop personal and collaborative digital ethnographies and datasets.
---
Here's another angle. One of the participants in my PhD research (let's call him Jack) pre-empted the emergence of these media in his explorative blogging activities. An interdisciplinary PhD student with an Arts-practice and teaching background, Jack began developing a 'scrapbook' style blog (using Posterous) with numerous and frequent posts comprising short notes and 'jottings', digital photos, short videos, and visual scans of sketches and mindmaps. He then began tagging these posts and reassembling them thematically through some quite extensive experimenting with third-party gallery themes and the digital note-taking site Evernote.
He primarily used these as part of a daily exercise to explore wider conceptual themes related to his research, often through the development of visual metaphors and various pattern forming techniques. Jack drew on educationalist Joe Kincheloe's interpretation of 'bricolage' as a holistic framing of research project work, in which the positionality of the researcher is seen as a legitimate methodological tool. He explained to me:
"I just see it as a way of expanding on the potential conceptualisation of the project, the PhD generally, and where I am right now… a way of sort of re-establishing myself in the project everyday."
Jack had originally developed these activities 'offline' using paper, pens and clippings, and the shift to a digital space enabled him to develop a more sustained and reproducible platform for documenting the process. The widespread emergence of the aforementioned curation tools coincided with the tail end of Jack's participation in my research, and I left him contemplating their potential usefulness. He has recently launched a new Pinterest site – no doubt partly hastened by the imminent shutting down of Posterous – where he is currently exploring similar creative processes.
There is no doubt that Jack's prior explorative work represents a far more nuanced, purposeful and practice-led approach to his current activities with Pinterest than can be claimed by most users. How many of us adopt specific social media without prior recognition of a need? Often it seems, they provide solutions to problems we didn't realise we had. At least in Jack's case, Pinterest provides a 'ready-made' approximation (of sorts) to a process he had previously attempted to resolve in his Posterous/Endnote work-arounds, and there is a lot to be admired in that personal trajectory. There is now perhaps the danger that in the transference of this activity to Pinterest, it may represent a form of reification, which, as Wenger (1998) suggests, can 'ossify' the creative and productive process.
My continued reliance on feed reading and bookmarking web resources seems positively 'old school' in comparison, but I believe these are reliable and effective methods which I have been able to integrate and refine within reasonably efficient everyday activities. I'm yet to be convinced how the current crop of curation tools can add value to what I personally want to do right now, but I remain open to future developments.
References
Wenger, E. (1998). Communities of practice: Learning, meaning and identity, Cambridge: Cambridge University Press.