New Research Trajectories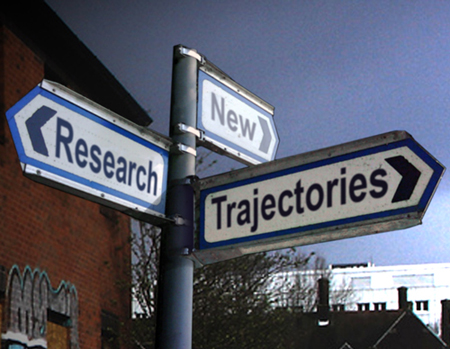 I've recently been involved in helping kick-start a student-led initiative funded by the AHRC as part of their Beyond Text programme. Beyond Text supports collaborative, multi-disciplinary projects engaged in challenging traditional notions of literacy through the active and creative exploration of oral/aural, material and visual forms of scholarly discourse.
I see our contribution – New Research Trajectories – as a conceptual framework for supporting creative forms of research dissemination. We are interested in exploring the potential of city and online spaces as environments for networking, collaboration and sharing ideas, enabling PhD researchers to engage in inter-disciplinary discourse through alternative modes and media, and non-academic situations and environments. In doing so, we hope the project will provide opportunities for participants to gain experience and training in new and challenging forms of academic practice. New Research Trajectories is timed to coincide with the opening in Nottingham of the British Art Show 7 and its associated fringe event Sideshow, and will culminate in an all-day event on December 15th, in which participants will engage in various 'activities' at venues around the city and online.
It was great to get our proposal accepted, and in June we attended a workshop run by AHRC at the Loch-Keepers Cottage, Queen Mary University, which gave us an opportunity to meet up with other award winners and hear about some of the student-led initiatives from the previous year. We've now got the website up and running which will hopefully become populated with lots of ideas, images, video and links to participants as they come on board. Rather than bounding the online components of the initiative, we see this as a hub or focal point for an extended network of online activity, which promotes the use of social media and engages participants' own websites and online spaces.
With a project like this, that's so dependent on emerging participation, it's difficult to forecast how successful it will be (and how do we evaluate success?) But if the enthusiasm of my colleagues and those who've shown an interest in participating are anything to go by, there should be some exciting developments in the months to come. Our first meeting is on Wednesday 22nd September at Nottingham Contemporary. This will give us an opportunity to introduce the initiative and welcome potential participants to discuss ideas and explore spaces in the city centre.